I cancelled my Facebook account at the behest of my blogging friends like
Motherhood Uncensored
and
Mothergoosemouse.
You KNOW I can't resist a good bandwagon.
Yes, it was the whole breastfeeding thing again. It seems Facebook considers breastfeeding photos obscene, but pro-anorexia and pedophilia are fine...so I decided to part ways with them and their perverted ideas. I don't really miss getting friended and poked, to tell the truth.
I just have a hard time believing that anyone, in 2007, is still getting all het up about breastfeeding. Don't we all know that it is good for babies and moms? That it helps protect against a host of health problems? That it is normal and natural? That it has nothing to do with nudity or sex? That everyone who can do it, should? (And I am not blaming those who can't!!)
Now there is a new protest springing up. You too can get your button: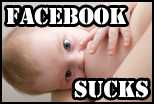 Just click on it and it will take you over to the
League of Maternal Justice
so you can become one of the cool, bandwagon-hopping bloggers.